About Accessibility on the UXCC Site
If you're a person with visual, cognitive, or physical impairments, or anyone using accessibility tools, please review our list of known issues.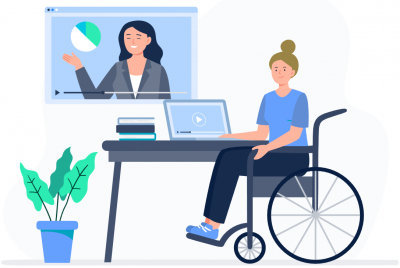 Our site is not 100% accessible and compliant. That said, we hope that the vast majority of our site is accessible. It's very important to us that all users can navigate our offerings and learn in our courses. If you're impacted by any inaccessible content,
please let us know
. Thank you!
The Web Content Accessibility Guidelines (WCAG) define requirements for designers and developers to improve accessibility for people with disabilities. It defines three levels of conformance: Level A, Level AA, and Level AAA. UX Content Collective is partially conformant with WCAG 2.1 level AA. Partially conformant means that some parts of the content do not fully conform to the accessibility standard.
Compatibility with browsers and assistive technology
UX Content Collective is designed to be compatible with the following assistive technologies:
Native user agents that are widely-distributed and accessibility supported (such as HTML and CSS)
Users' assistive technology (AT) such as screen readers.
UX Content Collective is not compatible with:
Browsers older than 3 major versions
Mobile operating systems older than 5 years
Accessibility of UX Content Collective relies on the following technologies to work with the particular combination of web browser and any assistive technologies or plugins installed on your computer:
HTML
WAI-ARIA
CSS
JavaScript
Limitations and alternatives
Though we have worked to ensure accessibility of UX Content Collective content and materials, there are some limitations. Below is a description of known limitations. Please contact us if you observe an issue not listed here.
Screen reader navigation
Our site is fairly navigable with a screen reader. If you notice anything irritating or inconvenient, please let us know so we can implement a specific fix.
Video captions
Some video on our site does not include captions. We're working to get these updated.
Skip links
We developed our site using a page builder called Elementor. It's not very accessibility-friendly, and does not make it easy to fine-tune page HTML. As a result, you might experience the "Skip link not present" error when attempting to tab through content. We're looking for a solution to this issue.
Alternatives
If you think it would be helpful, please let us know and we can install a WordPress plugin like One Click.
We welcome your feedback on the accessibility of UX Content Collective. Please let us know if you encounter accessibility barriers on UX Content Collective:
This statement was created on 20 April 2022 using the W3C Accessibility Statement Generator Tool.