Become a master of product voice
Experiment with writing for voice to gain a deep and meaningful understanding. This online, self-paced course is made for anyone who creates, establishes, or shapes the voice of content.
100% online and self-paced
Personal feedback from experts
Certification
Learn how to use AI to support brand voice
Full price: US $350
Payment plans available, including Affirm.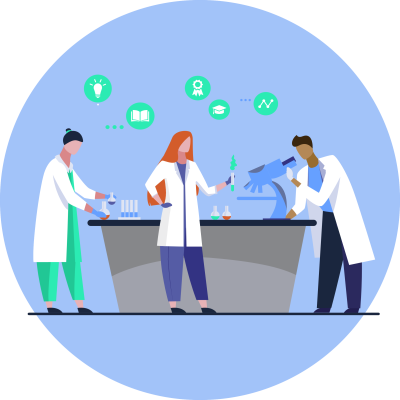 Learn to craft an effective and powerful voice
What topics are covered in this course?
How do we define voice?
The history and role of voice
The impact of voice in communication
Voice composition
Writing for context
Empathy in writing
Communication attributes and design principles
Understanding your readers
Mapping your landscape
Aligning voice with stakeholders
Adapting voice for content components
The role of AI in brand and design
Coaching your voice
Content design testing methods
Voice risks
"This was a very rich class that I plan to bookmark and consult all the time."
Who should take this course?
This course is made for content professionals of all kinds looking to flex their voice and tone muscles. That means:
UX writers and content designers who want to nail down techniques
Marketing writers who want to create positive customer experiences
Content team leads looking to drive real ROI and competitor differentiation
PR & communications specialists who want to tell a stronger brand story
Creative writers who want to sharpen their skills and build their portfolio
Chatbot writers interested in learning how to bring a written voice to life
Content marketers seeking a deeper understanding of voice for creativity
How long does this course take to complete?
Time estimates fall around 10-20 hours of study and practice work for this course depending on your speed. There are 4 units in the course. Each unit is broken down into a series of 3-5 lessons with follow-up quizzes, practice work, and a final project.
What else do I get from the course?
We love supporting our student community, both inside and outside a course. 


Access to a community Slack, where you can speak with other students and members of the grading team

Free admission to monthly Q&A sessions 

A personalized portfolio page with a unique URL that verifies which certificates you've received

A spot in our certified UX writers' directory
Lifetime access to the course, including any future updates!
Think about your favorite brand, product, or service. What comes to mind? Their visual design? What about their voice?
Fact: Consumers prefer brands with strong, unique personalities. It's also a big reason why companies with consistent voice and tone across touchpoints retain customers.
So what do you say? Ready to roll up your sleeves and step into The Voice Lab?
Self-paced learning with expert feedback along the way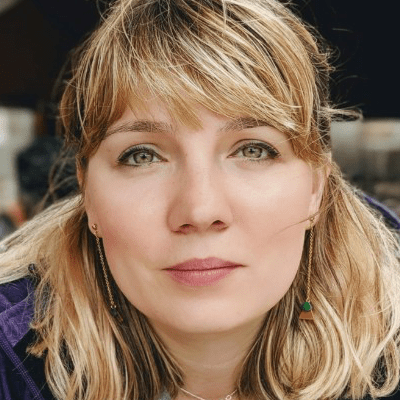 Adina Cretu
UX Writer and Content Designer
Take a look inside the course
Get personalized feedback on your assignments directly from working content designers
Complete a challenging final project in which you apply critical style rules to an entire design experience Create a public student profile with a unique URL to verify your expertise and stand out to hiring managers
Walk away with a certification to back up your skills—one that hiring managers recognize and respect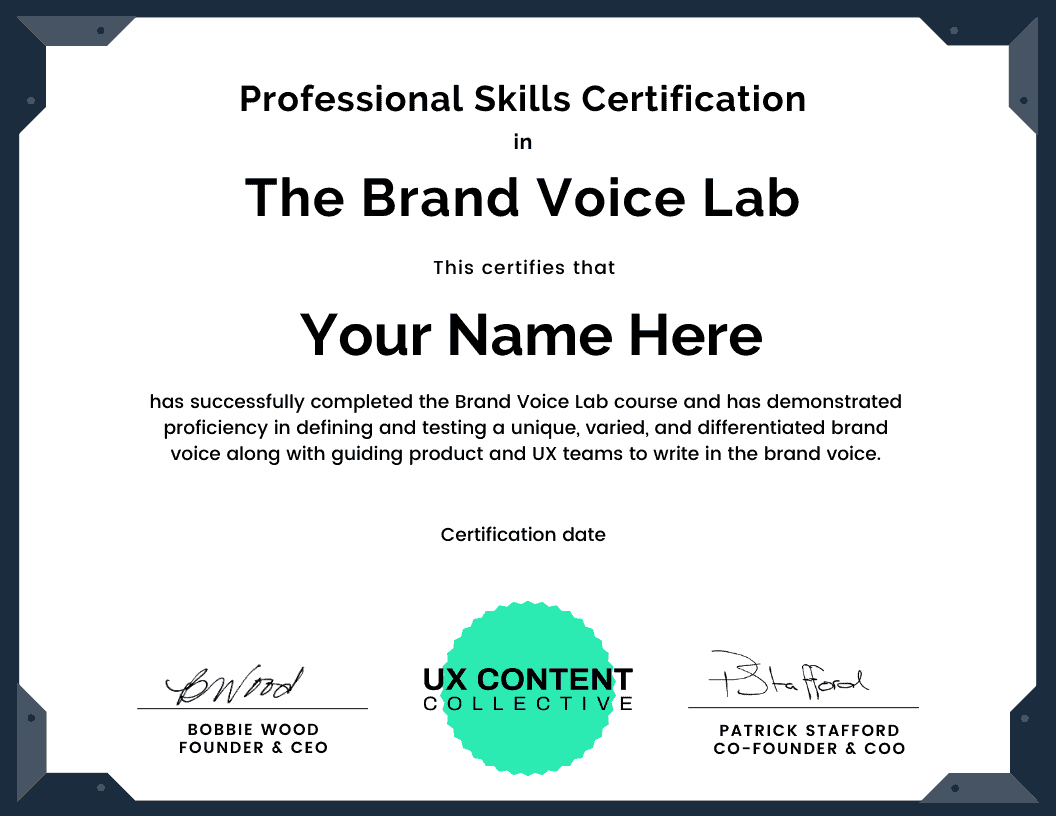 Why choose UX Content Collective?
We are the global leader in UX writing and UX content design training for thousands of individual students and hundreds of teams. Our courses were created by content designers, for content designers. Our founders offer over 60 years of combined experience at Google, Intuit, and Amazon.
Align your team with UX writing best practices


"We wanted a fundamental training that provided a callibration for some basic understanding on how we do our daily work."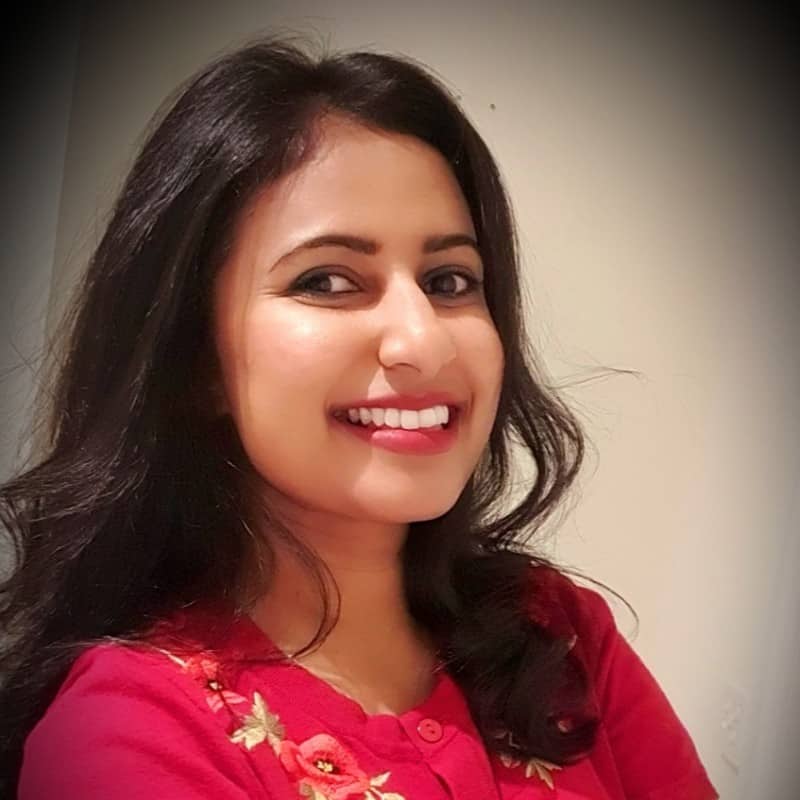 Contact Dhanushka (Customer Success Manager) with any questions about the course, team training, or anything else!
Payment plans up to 12 months 

Payment options include credit card, PayPal,  and bank transfer. 
Affirm is available for students in the United States and Canada. For students in other countries, we offer plans over 4 or 6 months.
Some knowledge of user experience design and methods
Fluent English writing proficiency. If English isn't your primary language, take this free test to assess your proficiency. Scores at C1 or above indicate readiness for the course.
Some familiarity with UX terms and methods
A Google account for sharing with instructors
A computer with an updated Chrome browser
A broadband internet connection