Reviews for Our Online Courses
Read reviews for UX Content Collective online courses and see why students are landing UX writer roles at some of the world's most influential companies.
"You won't get this from a book."
You won't get this from a book. The content is well-organized and the reviews help reinforce what you learn in each unit.
"I really enjoyed the course."
A lot of the course content really emboldened me to talk confidently in interviews with product people.
"The course does a great job."
The course does a great job at starting out slow and building up. The instructors break down complex topics in a simple and easy-to-digest way.
More reviews from students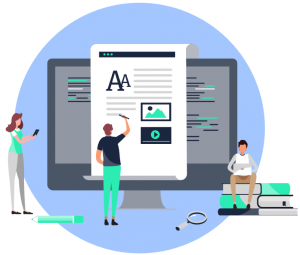 "I've gained a stronger, more confident voice."
I was new to the concept of writing for digital products. I signed up for the Fundamentals course a couple of months into my new role. The course connected many dots for me and helped steer my thinking and planning. Through the practice projects and feedback, I began to hone my skills. I've gained a stronger, more confident voice as a product designer since taking the course.
"Solid foundation with practical exercises"
Moving from the content side into a role based on analytics, I found the Content Research and Testing course a solid foundation with practical exercises and great advice on how to analyze data and present my findings.
"An important step in my career evolution."
Taking the Fundamentals course was an important step in my career evolution from Product Manager to UX Content Strategist. I just booked a project I'm really excited about -- and they found me in your Certified UX Writers directory. Looking forward to taking another course soon!
"The material is rich, relevant, challenging, and super fun."
I am a veteran copywriter obsessed with UX and the entire process of crafting easy, delightful, and satisfying customer journeys. Last year, I completed a UX Design course at General Assembly. Now, I'm building on that foundation with your UX Writing Fundamentals course. The material is rich, relevant, challenging, and super fun. I can't wait to see how my portfolio piece turns out — and add UX Writer to my resume!
"I now feel confident and legitimate as a UX writer."
I want to congratulate you for the excellent and challenging class you put together, I learned so much within 3 months and now feel confident and legitimate as a UX writer. The class and project reviews are good training and the final project was a real challenge! Bobbie's feedback was very thorough and helpful ... I am happy and proud to be part of the UXWC community and looking forward to learning more every day.
"This is as good as GOLD."
This course and my overall experience with the Writer's Collective have given me great confidence in my abilities as a UX Writer, beyond standard copywriting. And it continues to do so via the Slack groups which in just moments after first checking-in gave me ideas on how I can continue to 'up my game'. To me, this is as good as GOLD, and with a bit of o' luck, it will help me get exactly where I want to go.
"The practice project was great."
The practice project was great. I was able to practice the techniques and methods that we'd used throughout the course and receive direct, specific feedback.
"I needed to validate the choices I was making."
I work at a fintech startup and I took this course because, as a UX Writer in South Africa, I felt like I was working in a vacuum. I needed to validate the choices I had made. The UX Writers Collective helped me do just that. It taught me how to back up my choices when I advocate for the voice of the customer.
"Built around solid professional insights."
The UX Writers Collective course is built around solid professional insights and best practice for writing and working as a UX Writer. I had a genuine sense of accomplishment in passing it.
"I would highly recommend this course"
I loved the UX Writing course and especially appreciated the feedback provided along the way. The instructors were helpful and kind, and made the learning experience great. As someone who has done a bit of UX Writing in the past while learning on the job, I found that this course filled in any gaps in my knowledge, while also giving me a clear strategy for future projects I will work on. I would highly recommend this course to any copywriter, content strategist, or UX writer looking to gain an excellent foundation in this fast growing field.
"I had no idea I could learn so much"
When I started the course I had no idea I could learn so much in such a short time. I work as a UX Designer and I have been using the knowledge I gained from you on my projects before I even finished the course. What makes this course so special is that it's not just about reading articles, but we also got a chance to practice what we learned on multiple assignments. All the assignments were very useful and fun and the feedback was always very constructive and individual with concrete suggestions for improvement. Getting this kind of feedback from professional UX Writers is invaluable. I write copy for my projects with much more confidence now than I did before. Thank you so much for all your valuable feedback, suggestions for improvement, and support.
"I would 100% recommend this course"
I would 100% recommend this course for anyone looking to get a more structured background UX writing. As a baby UX writer, there's plenty to learn on Medium and in other articles, but I finally got to the point that cobbling together a Medium education wasn't enough, and I wanted something organized and step-by-step. This course focuses on every aspect of being a UX writer and working on a team--not just the writing. I was able to apply things from the course into my work developing a product the very next day. Now that I've completed this course, I feel way more confident in working on a design team, and I have a solid base to continue to learn and contribute to this field.
That's why you see hiring managers, like Jen Schaefer from Netflix, praise our UX Writing Fundamentals Course. Our founder and CEO, Bobbie Wood, was previously a hiring manager and design lead at Google, Intuit, and several startups. Our co-founder and COO, Patrick Stafford, hired UX writers and content designers at MYOB, Australia's largest accounting software provider. Our expertise and focus on hiring is baked in from the start
The material is excellent, and so thorough! I'm so impressed. It's such a wonderful resource for our discipline.
This is awesome. This is exactly what writers wanting to make the jump into tech are looking for.
When I'm talking to candidates, I want to know they've done this sort of thing. I want to know they understand the logistics, the stakeholders, the importance and mental model of the users.
My Meetup members are so excited about this training opportunity!
Students are getting hired
Our courses are designed hand-in-hand with hiring managers. Which means our students are getting jobs when they finish. Some have transitioned to new roles at their current companies. Some have been hired into new teams at new companies. All of them feel more confident in their roles.
Many of us know what it's like to be the only writer at a company where "UX" is a newfangled term. Now these students are armed and ready to transform  their product content.