As content designers, it's easy for us to understand why microcopy is so valuable. We've even become pretty great at convincing product managers and design leads why they should invest in dedicated UX writers.
But this has an unintended consequence. It may cause those on the design team to think that microcopy and other UX writing responsibilities should only be handled by the writer. If you're a product manager, developer, designer, or any other person on a design team, you may think microcopy is just a writer's purview. That you can let the writer write, and then focus on other things. 
Not so fast! Do we think this about other roles? Everyone on a design team should know how to work in Sketch or Figma. Everyone on a design team should at least know a little bit of code, or at least can read the code. Everyone on a design team should understand the product roadmap and departmental OKRs. So…doesn't it make sense that everyone on the product team should know how to write microcopy? We think so.
Good Microcopy can increase ROI and reduce development time
Microcopy is more than just a little "delight" —  it can have a huge impact on your organization's financial situation. How?
Increased retention and conversion by highlighting other useful features

Reduce user churn by pre-explaining confusing terms and flows, instead of leaving users to figure it out on their own

Reduce calls or tickets directed to your support teams by nipping problems in the bud through microcopy (smart error messages, anyone?)

Save development time by helping find strings that sideline coding errors 

Create seamless UX (

that can save huge on development time

)
All of these save (or make) real money. If you need any more convincing, just look at this example from Yael Ben-David's article on how good microcopy can solve technical challenges:
"Sometimes your interests and those of the users can be perfectly aligned, but the user simply can't move forward, not because they don't want to but because they just don't know how. Help them help you help them."
Explain what they need to do. Explain where they can find the info you need them to input. Explain terms they may not understand. Over-communicate conventional terms if you need to. Converting is hard enough so pour your energy into overcoming real barriers to entry like preferring a competitor; don't let them get stuck for technical reasons."
The more time you spend on microcopy up-front, the fewer problems you have to solve later. We think everyone on a design team can get on board with that.
Who on design teams should know how to write microcopy?
Product managers

Designers

Developers

Analysts

Data leads

Researchers

Anyone else! 
We've moved away from a world where everyone only focuses on their own skills. A good, well-rounded design team is made up of teammates who fit the T-shaped skills model: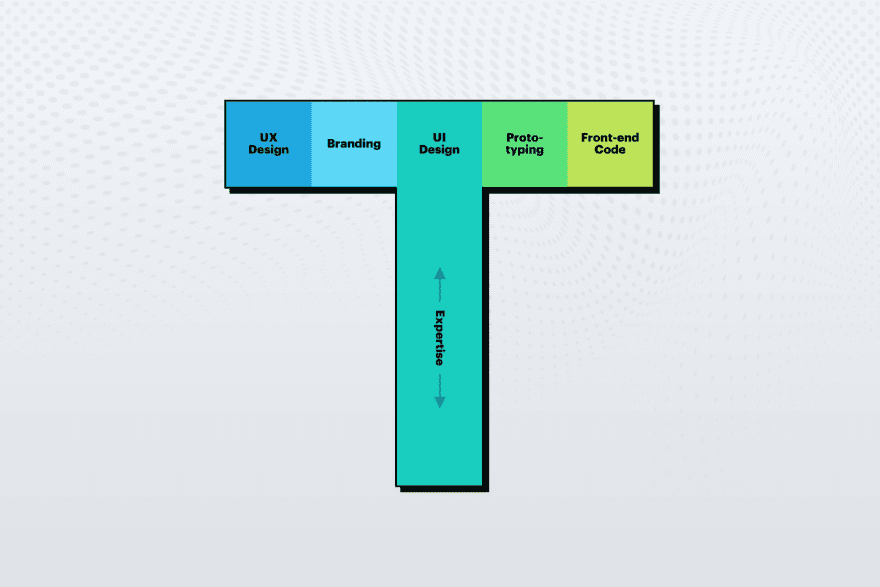 Source: Solowork.co
The idea is that you should have a particular specialization where you have a deep, unique skillset. But you also complement that with at least basic skills of everyone else on the team.
So for example, a UX designer should spend most of their time…designing. But they should also know how to write a little front-end code, become familiar with product roadmaps and strategy, and conduct a user-testing session. And that means everyone on the design team should know how to write a little microcopy. It just makes sense that everyone knows, respects, and can even practice what everyone else on the team does, even if they're not an expert.
What if you don't have a writer?
Although UX writers and content designers are a growing discipline, there are plenty of product teams that don't have them. If you're missing a content designer, you don't want to miss out on the huge benefits that come from writing great microcopy (especially when it comes to ROI).
You won't be able to replicate the full benefits of a UX writer among your team, but you can decrease the gap by making sure every single person along the design team can spy opportunities for good copy. That means everyone from the researcher through the front-end developers can spot opportunities for a new string that might make your lives – or the lives of other teams – easier.
Learn how to critique 
Even if you do have a UX writer or content designer on the team, it still makes sense for everyone to learn the art of great microcopy. Why? So you can participate in actual critique.
After more than a decade of UX design lexicon becoming commonplace, we know how to critique wireframes. But many product managers, or even designers, don't necessarily know how to write or critique copy. To help give that feedback and help make your UX writers and content designers the best they can be, critique is necessary. So learning how to write good microcopy is the first step in actually recognizing it.
How can design teams skill up in microcopy?
Practice
Practice makes perfect. The more you actually contribute to designs and write microcopy, the better you'll get at it. Especially if you submit that microcopy for usability testing and actually watch how real users react to it.
Rewrite an existing app
Choose a software product or service. Take a look at the microcopy – are there any messages that you think could be improved? Why? Make an attempt at writing it again. Just remember – when writing great microcopy, you need to always explain your rationale. What's the process by which you're writing this copy? What are the users' goals, and how is the microcopy helping them? 
Enroll your design team in the Microcopy course from UX Writers Collective 
We've teamed up with Kinneret Yifrah, who literally wrote the book on microcopy, to release a video-based course that details everything you need to know about writing great microcopy messages.
Here's the key: this one isn't made just for UX writers. It's for everyone else. This course is designed to teach you how to write clear, concise language for UI components and states like buttons, error messages, success messages, empty states, etc.
Everyone on a product team should ideally know how to write great microcopy. This introductory course is made for professionals looking to communicate clear, engaging, useful information that helps users easily complete tasks:

Designers who want to level up the language presented in their mockups

Writers of all stripes who want to brush up on writing for user experiences

Product managers who want to boost their cross-functional leadership

Marketing specialists who want to create positive customer experiences

Developers who want to improve the digestibility of user-facing messaging

And more!



You can get more information about the Microscopy course here – including the full syllabus – but you can also get the full overview by watching the intro video below.
Writing great microcopy isn't just the writer's job – it's everyone's job. So enroll today – whether by yourself or with your entire team – and raise the quality of your design team.