As a solo UX writer, I often wonder how my day-to-day work compares to other UX writers or content designers. What do things look like for other teams of one? How is it different in organizations with larger content design teams? Am I doing this right? Is there even a right way to do this?!
I figured, who better to ask than the content design community? So I put together an informal questionnaire and shared it on LinkedIn.
I loved getting a glimpse into these wonderful content designers' work lives. I hope you'll enjoy reading what I learned half as much!
I heard from 12 solo content designers, 1 with agency experience, and 7 from organizations with teams ranging from 4 to 65 content designers. I learned about their average day-to-day schedules, tools, challenges — and what they love about their setups.
I transferred their responses to virtual sticky notes and did an affinity mapping exercise. As I grouped responses, some trends emerged. Those are what I'm sharing here — along with a few extra insights from content designers I reached out to with questions. For a peek at the process, feel free to poke around in my FigJam file.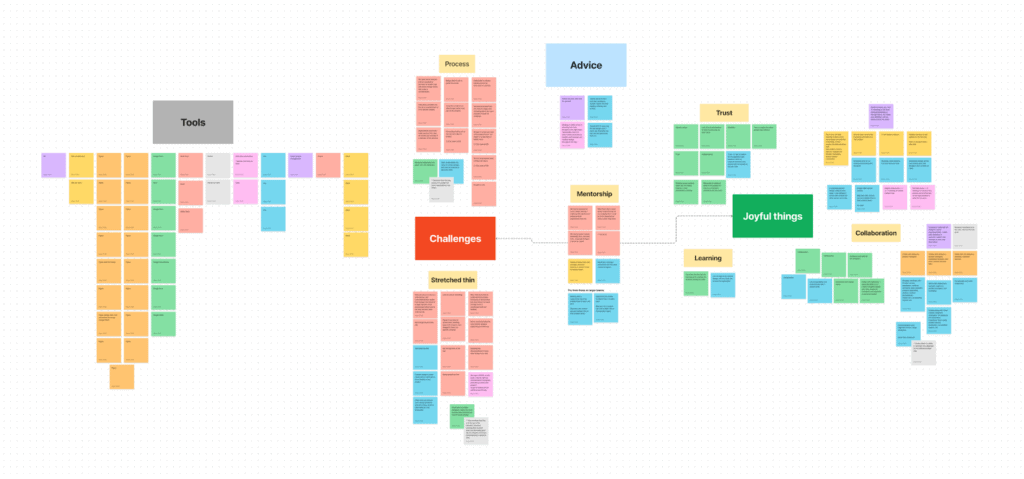 Screenshot of Megan's FigJam file showing sticky notes grouped together based on different topics like tools, advice, challenges, and joyful things.
Daily routines
I thought I'd start by sharing a few descriptions of day-to-day life on the job. Daily routines tended to include team meetings, critiques, one-on-ones, and solo work.
"I spend about 3 hours each day working by myself. I spend this time reading, thinking, and writing. Each week I have two scheduled growth design critiques and I usually have one critique or review with at least one other person every day. I try to work closely with the designers I support by scheduling time for co-writing and jamming. I also like to spend time connecting with researchers, analysts, engineers, product managers, and marketing."
– Jason Fox, Chime, 1 of 4 content designers, each individually supporting 12-15 product designers
* * *
"Because I have so many flows and responsibilities to keep track of, I'm not able to attend every pillar meeting. As such, I do a lot of async work which involves designers tagging me on specific screens (in Figma) that need copy attention. I collaborate primarily with designers, product managers, marketing managers, and other content-focused folks."
– Anonymous, mental health startup, solo content designer supporting 20 product designers across 5 pillars
* * *
"I block off 9–11 every day for solo design work and time to catch up. Otherwise, the day will just spiral away from me. I'm not dedicated to one team (they all have my heart). I don't have to attend their regular ceremonies unless I'm working with them on a "big" project. But there will usually be either a team meeting or some collab time with one of the product designers. Then I take a lunch break and have some more meetings. I have 2 kids, so I usually break to get them from school. At that point, meetings have died down and I'll try and crank out some actual work product."
– Mike Lightman, Justworks, solo UX writer supporting 15 product designers
* * *
"We use an agile project management flow within Jira for projects. I use Figma and Google Docs/Sheets for my individual work and collaborations. We have regular syncs as a team and 1-on-1 meetings to review the content requirements. This helps to ensure we're all focusing on the right problem to solve for our users."
– Tracy, Indeed, 1 of 65 content designers, solely supporting a team of 5 product designers
Tools of the trade
Content designers are using a range of tools and applications. I organized those that were mentioned into groups. The following tools were mentioned:
Adobe XD – 1 mention

Miro – 2 mentions

Figma – 17 mentions

Frontitude – 1 mention

Ditto – 1 mention

Google Docs or Sheets – 7 mentions

Microsoft Office – 3 mentions

Notion – 2 mentions

Coda – 2 mentions

Jira – 3 mentions

Linear – 1 mention

Asana – 1 mention

Slack – 4 mentions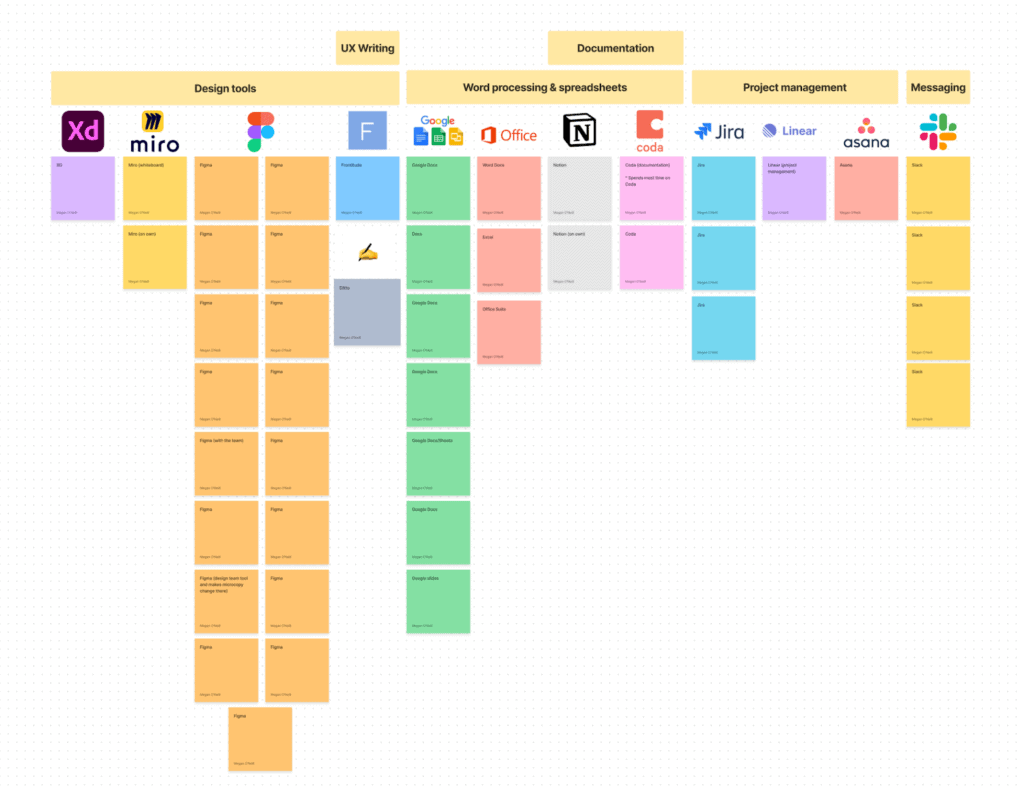 I want to note that I didn't ask people to name every tool they use. Rather, to describe what tools they use most often. So this isn't meant to show, for instance, that only 4 out of 20 people use Slack. Rather, it means that Slack was top of mind for 4 people as a tool they use regularly.
Design tools
It may not come as a surprise that one tool stood out from the bunch: Figma. Almost everyone mentioned Figma — and most use it as part of their daily routine. There was 1 person that mentioned Adobe XD (in addition to Figma) — and 2 that use Miro for whiteboarding.
A couple of people mentioned using Figma "with the team" and other tools like Google Docs or Coda when working independently. But most respondents mentioned Figma as a daily tool for working and collaboration.
"The design team uses Figma, and I make the microcopy changes directly there," said Om, a solo UX writer at Zuddl. "Being able to work on the Figma files directly is also something I've found important (I know UX writers who aren't given access) because seeing the copy on the actual screens is different from writing it on Notion or Coda."
As far as UX writing tools go, 1 person mentioned Ditto, and another mentioned Frontitude.
Word processing and spreadsheets
The most popular tools after Figma were those for word processing and spreadsheets. Google Docs and Sheets got the most mentions. Word and Excel were also mentioned, along with Notion and Coda.
Usage is often determined by the tools the rest of the company uses — and who content designers collaborate or share work with.
"Most of my work is done in Figma and a smattering of Coda and Google Docs, depending on the relative party and the day." 
—Robert Feasley, Staff Content Designer at Tempo
Personally, when I'm not in Figma, I live in Notion. I may use Google Docs for drafting. But all my documentation lives in (or gets linked out to from) Notion once it's finalized for easy access. I also use Notion as a project management tool.
Project management tools
Speaking of project management tools – outside of Notion, a few came up. Namely, Jira, Linear, and Asana. A couple of respondents at organizations with larger content design teams (15 and 65 content designers) mentioned Jira. A solo content designer supporting a team of 5 product designers mentioned Linear.
The fact that only a quarter of respondents mentioned project management tools doesn't mean project management isn't important. Far from it. As I'll touch on later, content designers are often spread across multiple projects, and having a good way to keep track of tasks is imperative. But, the tool may depend on the organization where you work.
It's often up to the content designer to manage tasks independently if there's no consistent workflow. 
A solo content designer that supports 30 product designers across her company said, "Scoping work is difficult because all of the different design teams operate in different ways with different schedules and different processes."
Team structure
Most content designers I heard from sit within Product Design. But not all. For example, I heard from a solo UX writer that sits on a team of 7 copywriters. They report to a marketing leader but collaborate with UX designers, visual designers, product managers, and developers. I also heard from a solo UX writer that supports the Product Design team but sits on the Product Management team.
Solo content designers tend to support all designers across all product teams. At companies with multiple content designers, each was more likely to work with a single product team and support all the designers on that team.
I did not hear from anyone working in an elusive 1:1 content designer to product designer ratio. 
The content designers I heard from were supporting at least 4 and up to 30 (!) product designers on their own.
Collaboration
Content design is all about collaboration. In fact, it was the top answer to the question "What do you like about working on a team with your setup?" It didn't matter the size of the organization, how many content designers there were on the team, or how many people they supported.
Who are content designers collaborating with most? Everyone mentioned collaboration with product designers at some point. When asked specifically about who they collaborate with most, a few trends emerged.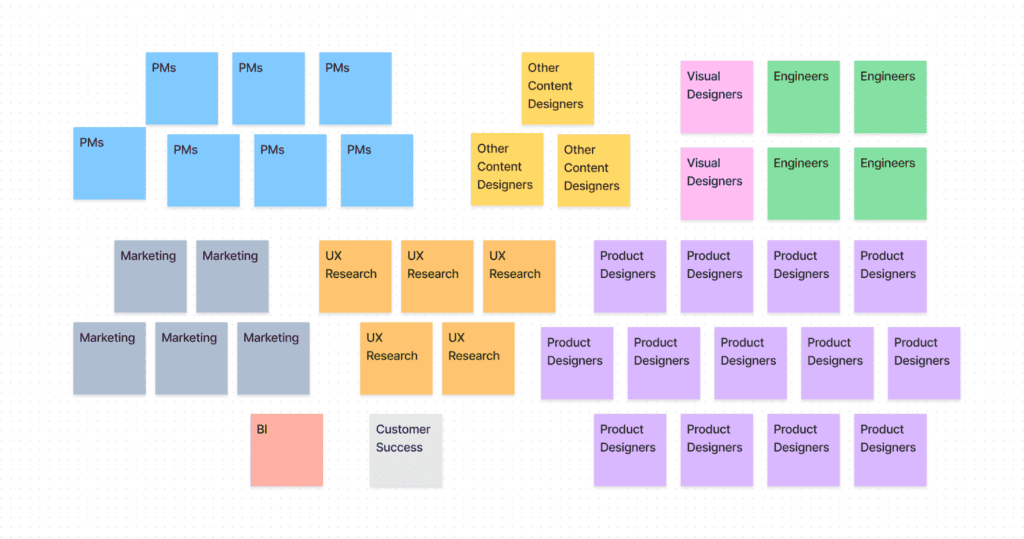 After product designers, the most likely collaborators were product managers. This was followed by UX researchers and marketers. 
Robert from Tempo has been working more closely with marketing recently. "Helping out with our brand and marketing side, I enjoy the ability to co-create thoughtful design and, then, ensure it's translated and shaped for a consumer market."
There were also mentions of developers and engineers, business intelligence, and customer success. I was curious how content designers collaborate amongst themselves at organizations where there's more than one. It turns out this really depends.
Marc Rambeau, who leads the Content Design team at Vimeo, describes his team as, "a community of practice and a support system." The content designers on his team are each dedicated to a single product area, but they build in lots of room for collaboration. "We rely on one another to work through tough questions on active projects, review and refine work that's nearing completion, and propose, debate, and decide changes or additions to our content guidelines."
But at some organizations, content designers may crave more collaboration with each other. One content designer shared their experience at a larger organization. "Much like product designers, we had occasional crits in which we'd review things like IA issues we were tackling, but those were few and far between."
If you're thinking about taking on a new role, ask about collaboration! Who will you collaborate with and how? If you crave a close relationship with other content designers, choose an organization that supports this.
Challenges (and opportunities!)
Outside of the tactical stuff like tools and team structure, a few challenges emerged. The good news? Each challenge came with some silver linings, too!
Being spread too thin
One of the biggest challenges faced by the content designers I heard from was being "spread too thin" or "not having enough hours in the day."
One solo UX writer noted a "general sense of being a tad overwhelmed that results from being in the thick of a super dynamic work environment where you're the only one who does what you do." But the feeling of being spread too thin was present in organizations with more than one content designer as well. One content designer in a larger org said, "I have to split my time between 5 designers, all working on their own projects. It's tough to balance all the needs across the org."
"My design partners value content and want to work with me, but because content design is so under-resourced, I don't get to focus deeply on any project and often end up trying to solve design problems with UX writing," said one respondent. Another shared this sentiment:
"I wish that I had more time to deeply understand the intricacies of each flow I'm responsible for, but since I have so many to keep track of, that's sometimes not feasible."
What's the silver lining? Several respondents shared that they enjoy working across teams because it gives them a more holistic view.
Mike, a solo UX writer at Justworks likes "being able to tackle all areas of the product to ensure a consistent experience for our users." Om from Zuddle agrees that "being part of multiple teams is useful because UX writing requires a consistent experience for our users."
The other silver lining is that it's not overwhelming everywhere. "Being under-resourced is endemic to the content design practice, industry-wide," said Robert from Tempo. "But working in an organization with receptive leadership and great, last-mile designers provides me more flexibility."
I asked Marc from Vimeo to share his perspective here, as his team recently moved to a model of dedicated product team support. He said, "Most content designers I know are deeply motivated by building better products and services. That means their instinct is often to try to do everything. They try to support every squad, take every request, and cover the whole product's surface area — yet they don't have the people power to do it well."
"When you're dedicated [to a single product team] like your teammates, you're an equal partner in shaping the product itself. You can co-create elegant solutions that show integrity across structure, meaning, visual design, and interaction."
Craving mentorship
Another theme that emerged was the desire for mentorship and the opportunity to learn from other content designers. This was especially true for solo content designers. One solo content designer that supports 20 product designers shared: 
"Sometimes it's a bit nerve-wracking being the only content designer supporting my entire org. I enjoy the autonomy and leadership experience I gain from that, but as someone still relatively new to the field, sometimes I wish there were more senior-level UX writers at my company that I could go to for reassurance/advice when I feel stuck."
Another noted that "not having senior content leadership that I can learn from" is challenging. "Product design leadership is very supportive, but I'm also just expected to figure it all out by myself."
What's the silver lining? The content design community is here for us! "The Content + UX Slack group is my saving grace sometimes," one respondent said. And there are so many great resources out there, including books where we can learn from the experience of great content designers that have proven the value of content design and scaled their own teams.
Here are a few books that have helped me through challenges on the job as a solo UX writer:
Writing is Designing

by Michael J. Metts and Andy Welfle helped me to navigate how writing fits into the design process

Cultivating Content Design

by Beth Dunn inspired me with ideas on how to communicate the value of content design to my entire organization

And I'm currently reading

From Solo to Scaled

by Natalie Dunbar as I explore ways to scale UX writing on my team 
Figuring out where we fit in
The final challenge that emerged was related to process and figuring out where we fit in. UX writing and content design, in the grand scheme of things, is relatively new. So part of the job is often explaining what the job is.
"No one really understands what writing is about," said one content designer. "They just think we write over the prototypes, but it can take hours and it means a lot more than just writing." Several respondents said that they're often brought in at the end of projects, "being called in only to polish the words."
"As the team is in its nascent stage, integrating content into the mix is needed," said one solo content designer.  "Departments need to be made aware of the need for content and consider it a vital part of the process. In my organization, it kind of feels like content is being inserted as an afterthought rather than accepted as part of the process."
What's the silver lining? Content designers everywhere are advocating for the practice — and it's working! Marc from Vimeo shared:
"As our discipline continues to mature, I'm seeing teams converge more around established best practices and ways of working. Things like dedicating content designers rather than operating on a service model; recognizing that we're as valid a design discipline as any other; and demanding the parity and equal partnership with our product design colleagues we've always deserved."
Several respondents noted feeling good about the trust they feel from their colleagues. "I love that people feel that there is a low threshold for asking my opinion on anything to do with language," said Vilde from reMarkable.

"The teams I support understand the value of content design and want to bring me in early and often," said Jason from Chime. "I get to make a lot of judgment calls based on what my research partners have shared with me as well as my own point of view."
Jason added, "There's no fixed way to do content design, it's still very fluid, and there's lots of room for exploration." And, if you ask me, that's super exciting! We have the unique opportunity to shape our roles, shape our processes, and shape our day-to-day routines.
Thanks so much to the 20 content designers that shared their experiences with me. If any of this resonated with you — or if you have a different perspective — I'd love to hear from you!
Megan O'Neill is a UX writer at Codecademy. Connect with her on LinkedIn.