User experience (UX) writers are many things. A lot of us come from copywriting, technical writing, or support backgrounds and have spent a lot of time working to build brand stories, support content, communications strategies, and other customer-facing documents.
While UX writer is a new title, the work a UX writer does is not. Getting clear on why your company needs a UX writer, how long you need them for, and what they will be expected to contribute to your team is important.
That said…
Even with our extensive backgrounds, remember that you're hiring a multi-talented UX writer—not a multi-talented copywriter.
Here is the difference.
Copywriters create the marketing content your company needs to sell your product (articles, blog posts, marketing site copy).
UX writers create copy your company needs to make your product easier to understand and navigate (mobile apps and website apps).
We come from diverse writing backgrounds, but our jobs as UX writers are specific: we work with your design team to craft UI text.
Take a look…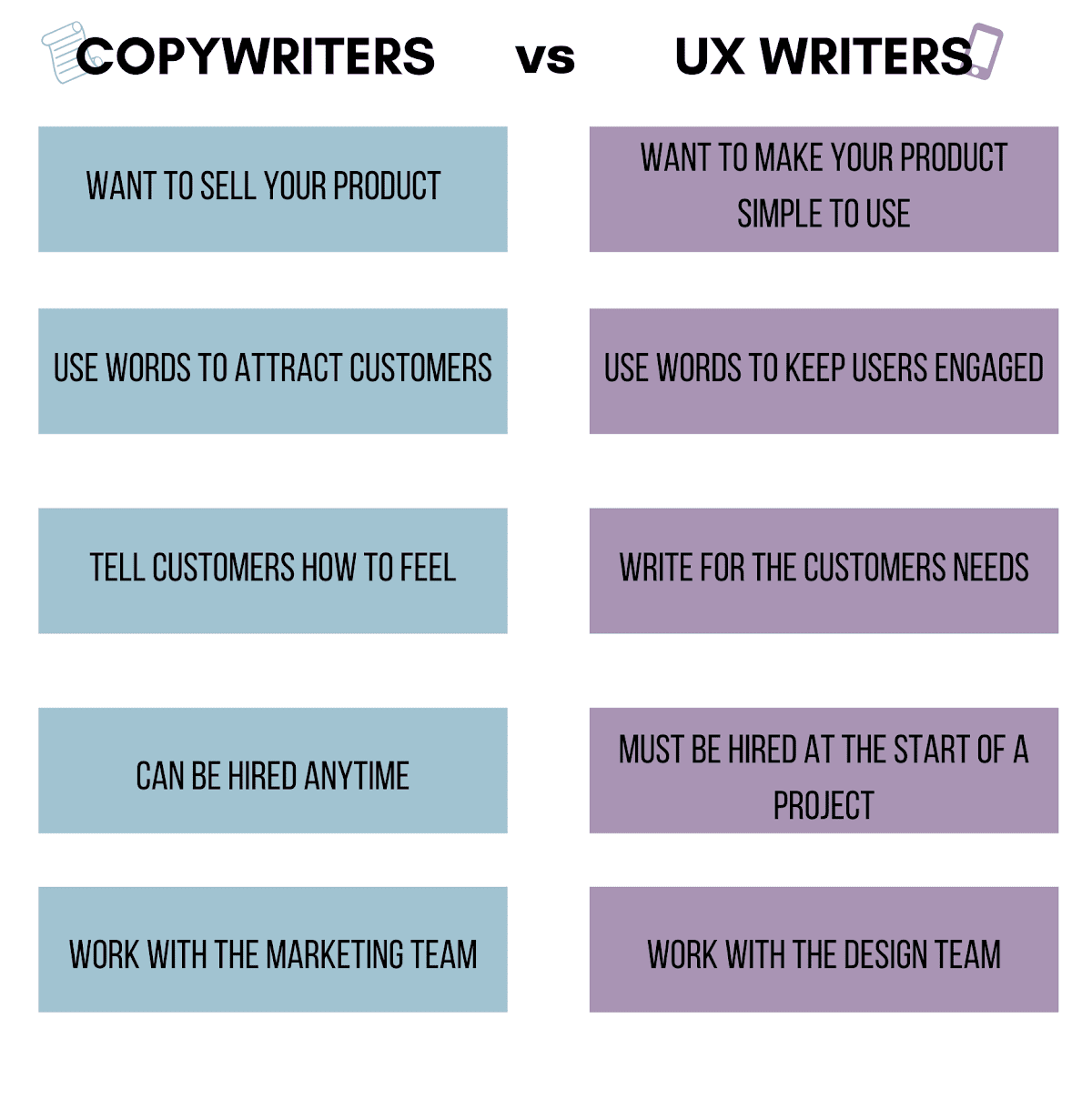 For example:
A copywriter: crafts a description of a dress that's on sale at an e-commerce site.
A UX writer: crafts the microcopy for inputting payment information and the CTA to buy the dress.
UX writing is very specific to helping users complete tasks, providing guidance, and keeping them on track.
So when your company decides to bring on a user experience (UX) writer, it's good to make sure you have everything in place to get the most out of your new role. Here are a few suggestions on what your company should have before you hire, how to interview, and how to get the most out of your UX writer.
1. What you'll want in place before hiring a UX writer
A copywriter to handle content marketing
A marketing team who've already built out product messaging, value props, and benefits (UX writers can do this work, too, but chiefly focus on design)
An established brand guide, including voice and tone guidance
A complete vision of what your product is and does
Documented customer feedback and relevant data
A head of design or product that understands UX copy
It's important that when you decide to hire a UX writer you're prepared for them. Laying a great foundation for your products and team is necessary in order for your UX writer to be successful.
2. How to interview potential candidates for UX writing
Focus your assessment on UX writing skills to avoid wasting valuable time on both sides. Be thoughtful about candidate portfolios and previous work. Look for clarity, brevity, and efficiency in their writing. If they don't have direct corporate experience, but they have a good assortment of samples showing they understand design writing, take a chance.
Ask for a portfolio that includes UX and UI writing samples.
Give a written assessment. Focus your assessment on UX writing skills, like error messages, notifications, and instruction text.
Don't underestimate spelling and grammar. Check for accuracy, but understand that there are variations depending on styles.
Interview candidates about design projects they've worked on and problems they've solved.
Ask your candidate if they've ever followed or contributed to a UX style guide.
Make sure your candidate understands your product and the problem you're trying to solve.
3. How to maximize your new UX writer
Getting clear on why your company needs a UX writer, how long you need them for, and what they will be expected to contribute to your team in the long run, is important.
Bring your UX writer in at the beginning of your UX project.
UI copy should be delivered with each completed phase of your designs and should never be slotted in as the last deliverable.
Give your UX writer the tools they need to deliver top-notch work, like customer data, research results, company info, and brand guides
Make goals, deliverables, and due dates clear from the start.
Be sure your UX writer understands your company's mission, values, and customer needs.
If you're the head of design, make sure you understand the goal of UX writing and can give constructive feedback.
Only assign your UX writer work that relates to UX and UI design.
Make your UX writer an integral part of the design team and communicate with them daily.
Once you've spent time onboarding your new hire, allow them to quickly get focused on their new project. Make sure everyone understands that the UX writer is part of the design team.
Making a smart hire with a UX writer is not only about finding the right candidate, it's also about being in the right place as a company.
---