As a brand new UX writer on a CX team, there's one thing I've learned for sure: there are very few pure-play 'UX Writers' around.
While people may describe themselves as UX Writers, very rarely does the description match up to the job title — nor do UX writers solely do UX writing.
While I do UX writing tasks, I'm technically employed as a 'Communications Specialist' which opens up a range of tasks and responsibilities that do not relate to the typical picture of what a UX writer does. For example, one of my first tasks with my current employer was writing transactional emails.
While adopting a UX writing mindset to the task was undoubtedly valuable in providing users clear instructional text, writing emails isn't typically what you think when it comes to UX writing tasks.
When you think about UX writing, you typically think about labeling CTAs, component editing, A/B testing copy changes, error state messaging, writing tooltips, and so on.
But as colleagues have started to cotton onto the unique mindset a UX writer can bring to solving user problems, I've found my skills being used in new ways. For example, I'm now part of a CX (Customer Experience) team.
CX, yet another X
Before I began my journey in a CX team, what I knew about CX could fit onto a post-it note. Now, my CX knowledge fits onto an A4 piece of paper — but what I have learned has given me perspective of the interplay of UX and CX.
The best way to relate the work of a UX Specialist to a CX Specialist is to think about the scope of both functions.
As a UX Specialist, you're constantly thinking about where a user is in product flow, where they've come from, and where they need to go next. 
As a UX Writer, you're simply trying to find the right words to enable the user to move onto the next step of a task as seamlessly as possible.
As a CX Specialist, you're constantly thinking about a user's overall journey, where they've come from with their experience with a provider of a service, and thinking about where they need to go next.
That's about trying to find the right service or experience to help the user onto the next step on the road to a Moment of Truth and beyond.
In fewer words (because I'm a UX writer)—UX is micro and CX is macro.
When both UX and CX are aligned, users get a great experience whether they're looking to add something to their cart or become an ongoing customer.
It's why members of the CX team I'm a part of have all played in the world of UX.     

The CX team
The CX team I'm a part of is led by a seasoned CX specialist but is full of people for whom CX is still a relatively new discipline even if they've been doing CX-adjacent work previously.
We have a team that comes from various disciplines, whether that be visual design, experience design, or project management—and they all have UX experience.
Having broad perspectives is undoubtedly a great thing, but one of the essential qualities which every single member of the team brings is a burning passion to improve the experience of customers with the business. 
Whereas marketing functions are ultimately measured by the number of customers that walk in the front door (although this is changing), the CX team is singularly focused on ensuring customers have a fantastic time once they're in the building (or on the way to the building). 
Doesn't that sound similar to the function of a UX writer?
As a UX Writer, you use the tools at your disposal (words) to make sure customers have a pleasant (or at least a non-abrasive) experience within a product.
CX specialists use a wider set of tools to improve the experience of a service.
What a CX team actually does (and how a UX writing mindset helps)
A large part of the CX team's work, thus far, has been to document what the typical customer experience actually looks like.
They do this by gathering information from customers and collaborating with internal teams and presenting it back as analysis so the business can see where customers aren't having a great time and, hopefully, fix it.
Part of this is creating artifacts that present a broader vision of what a customer may experience than stakeholders who look at one particular piece of the journey may be.
Service Design Blueprints  
For example, a Service Design Blueprint is a key artifact in the CX suite — and charts 'on stage' and 'backstage' actions behind an interaction between customer and provider.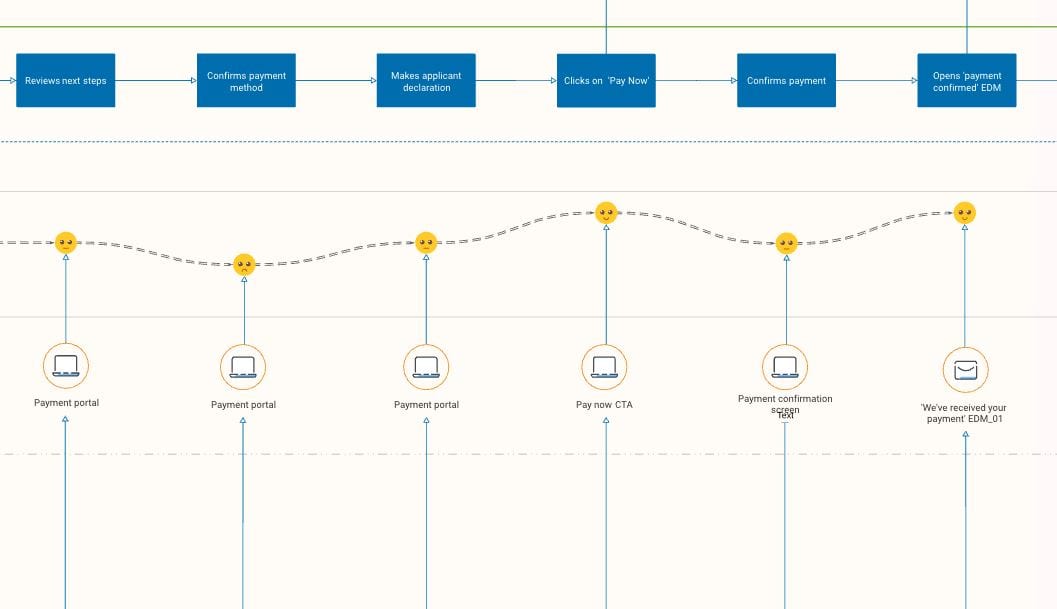 An example of a Service Design Blueprint (click image to enlarge)
As a UX writer, my task has not only been to have input on these maps by providing research and insight, but also to provide labeling on the maps so they can more easily be understood by stakeholders.
CX artifacts are, rightly, large and complex repositories of information— and while they would normally be stuck on walls and literally walked through, they're now mostly consumed on laptop screens.
That means that complexity can be an absolute killer.
When you're trying to make stakeholders see a broader picture, presenting a labyrinthian document and expecting them to consume it on a laptop screen is an issue.
I'm not an inherently visual person—but my UX writing skill has eased the cognitive load by making sure the labeling on these maps helps focus the reader on the important stuff.
When both UX and CX are aligned, users get a great experience whether they're looking to add something to their cart or become an ongoing customer.
I even created a hastily constructed style guide for the team.    
One of the more important things I focused the team on is making sure user actions are presented in the singular present tense. 
For example, instead of writing "users apply for a loan", we write "the user applies for a loan".
This helps center the consumer of the Blueprints on the actions of a single 'person' at the moment of interaction rather than the process behind the person's interaction.
After all, it's easier to empathize with one person than a group of people.
By a simple change of language, the comprehension of these complex documents increases—which is exactly the work of a good UX Writer.
Affinity mapping
One of the tools UX writers may be more familiar with is an affinity map.
For those of you unfamiliar, it's basically a way to connect ideas with several themes that may emerge through analysis.
As part of a customer outreach program, two members of the CX team (I'm one of them) have been collecting feedback customers have and grouping them together into broader themes.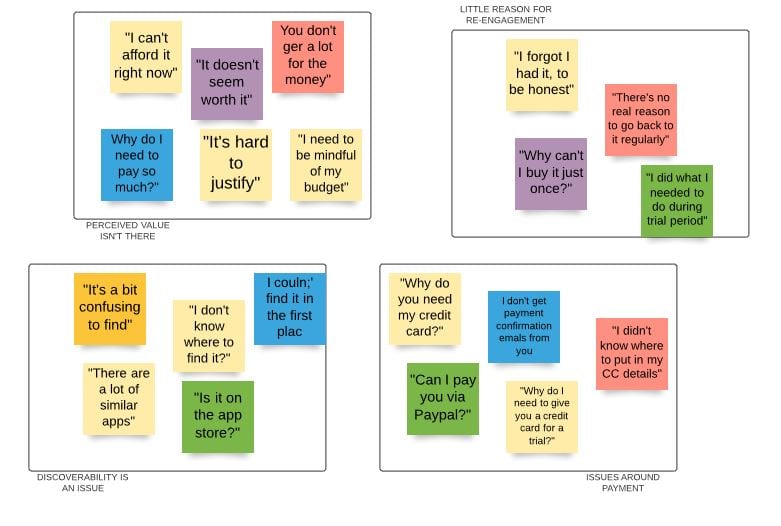 An example of an affinity map (click image to enlarge)
It's the first step in designing new processes, products, or services designed to help alleviate users' pain points.
While summarising a user's feedback in a few words is a copywriting skill, it's not the main game here.
It's the ability to empathize and go beyond the words to figure out what's really happening which is key.
It's a skill that UX writers have in spades.
Part of the work of a UX writer is to not only write words and then walk away but to continually gather user feedback to figure out whether the words you wrote still make sense. Capturing the intent behind a user's words is key to this.
For example, there may be three ways a user may tell you a process or flow is fine:
'It's fine :)'

'It's fine.'

'It's…fine'
It's up to you to figure out whether they truly think the process is fine, or there's something else going on underneath the surface.
It's the role of a UX Writer and a CX Specialist to overthink things on a professional level so users don't have to—and key to that is empathy.
How the skills you use in UX writing have an impact beyond UX writing
The great thing about UX Writers is that they have a passion for making people's lives just a little bit easier.
Through carefully constructed words, they provide a seamless experience.
The thinking, and the empathy, behind those words is what makes them stand out in any organization.
While a user may casually glance at the words that kept UX Writers up at night, they're only able to casually glance at it because the UX Writer gives a damn about their experience.
That's truly what I share with every member of the CX team I'm a part of.
Our ability to empathize with users, thoroughly investigate what may be giving users pause, and presenting the basis for solutions back to the business is what we do.
While I may do it with words, others do it with diagrams or wireframes— but these are just outputs.
It's the fundamental thinking, the robust analysis, and simplicity of synthesis where the interplay between CX and UX lies.
CX provides a broader perspective, while UX goes deeper on a narrow process. It's why UXers (writers included) can make great CXers, and CXers can make great UXers.
But where UX writers can help is in the interpretation and presentation of analysis, to give stakeholders the best opportunity of truly understanding what is being presented.
We shortcut the mental block between consumption of documentation and empathy with the user—and that's something all organizations can use more of, no matter what your job title is.
James McGrath is a UX Writer, CX Specialist, and sometimes journalist who lives in Melbourne, Australia. Connect with him on LinkedIn.
---