Technical writers play a critical role in tackling complex subjects for users. Unfortunately, many organizations aren't unlocking the full potential of their technical writing teams. Although technical writing is seen as a separate discipline, the truth is that as products make it easier to access technical docs and help in-product, technical writing is put in front of more users more often. 
The rise of AI-powered chatbots fuelled by documentation also makes it crucial for technical writers to understand how to write material in friendly and accessible ways. 
There is significant overlap in what technical writers and UX writers create. It only makes sense that team leaders empower as many people as possible to create deliverables that make everyone's lives easier:
| Technical writers | UX writers | Both |
| --- | --- | --- |
| API reference material | Sign-up, setup, and onboarding copy | B2B interface text such as enterprise apps and tools |
| Hardware manuals | Interface guidance including instruction text, app errors, alerts, notifications, buttons, labels, toggles, lists, modals, and search functions | Style guides for teams |
| Server maintenance guides and other system administration documentation | Content-first design mockups | Troubleshooting guides |
| Documentation for platform-level infrastructure tools and systems | Consumer-facing product names, feature descriptions, and marketing copy | Metadata |
| Security protocols and methods | Content systems to align with design systems | Taxonomies |
| Walkthroughs and tutorials | Voice dialogs for mobile apps | Information architecture |
| Software development kits (SDKs) | | Error messages |
| Internal reference material | | Support content |
| | | Software update release notes |
Arming technical writers with content design and UX writing skills can strengthen your design process, reduce friction for users, and create a product that ultimately feels more cohesive and of one piece.  Start training your technical writers in the UX process and key foundations in writing UI text, and you'll start to notice significant benefits.
Reduce friction by making documentation feel part of the product experience
In many cases, documentation exists separately from the product, sitting under entirely different teams and often disconnected from the design experience. When users have to access that documentation, they often feel surprised by how different it feels and how the information is structured in different ways than they're used to.
Good UX writing and content design skills for documentation, such as progressive disclosure and information hierarchy, make sure users have a frictionless experience no matter where they are in their journey. By arming your technical team with foundational UX writing skills, you can help reduce friction and make users feel as though they are part of one cohesive experience.
Increase collaboration across different teams
Many technical writers can often find they are siloed from the product experience, even when they have a deep knowledge of many products across several teams: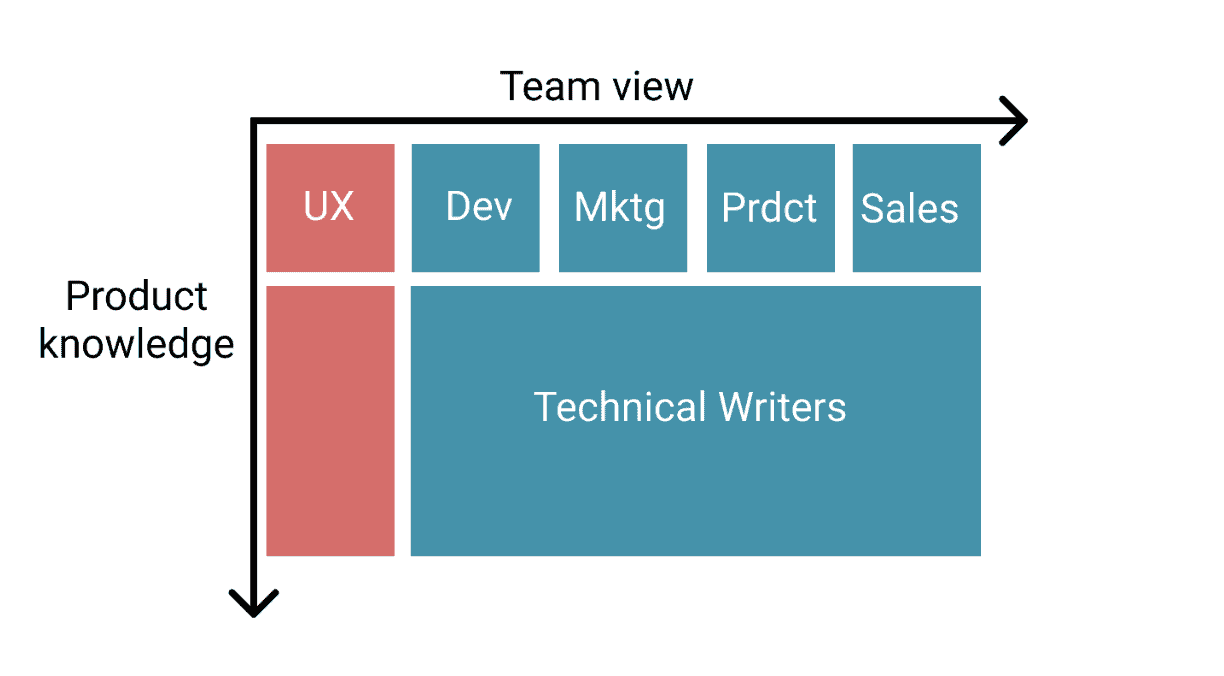 Technical writers are perfectly positioned to learn content design skills because they see the entire product design phase end to end. This means they can take part in the design process and influence elements like UI text to make them as user-friendly as possible. 
Having technical writers in that entire process means they can trade information back and forth with the rest of the design team—both influencing the UI text and then having the UI text influence documentation. 
Tech writers should be able to confidently consider the impact of messaging, voice and tone, weigh in on UI copy decisions, influence information architecture, metadata, taxonomies, and more.
Speed up the design process
By having designers and technical writers work together, decisions are fast-tracked and everyone can work from the same set of core design principles. This deep knowledge and insight about how the company talks about the product set up tech writers to take part in early-stage design meetings to help solve conflict and UX issues when they bubble up.
It also means you have fewer meetings or debates about rules that no one can agree on. When everyone understands the core principles underpinning the work, you can start to focus on the bigger problems that actually make a larger impact.
Gain a competitive edge
When a user has a great experience with a brand, they are more likely to talk about it. The same goes for developers or technical audiences interacting with documentation!
Applying UX writing principles to technical documentation creates a better overall experience. Bringing technical clarity to UX creates a better experience. Just like in content design and product text, differentiating your company with technical copy can be a huge competitive advantage.
Our UX Writing for Technical Writers course offers a self-paced learning experience covering the following topics: 
Voice and tone for docs

Human-centered technical language

Best practices for component writing

Microcopy: Writing alerts, notifications, CTAs

Strategies for discovery and research

Creating a style guide

Testing your text

Ways to reduce error

Integrating design steps into your workflow
Continue reading
If you're ready to give your team skills to succeed, we're here to help. Continue learning about how we can help, or get in touch via the form below.